Low Balance Notification Threshold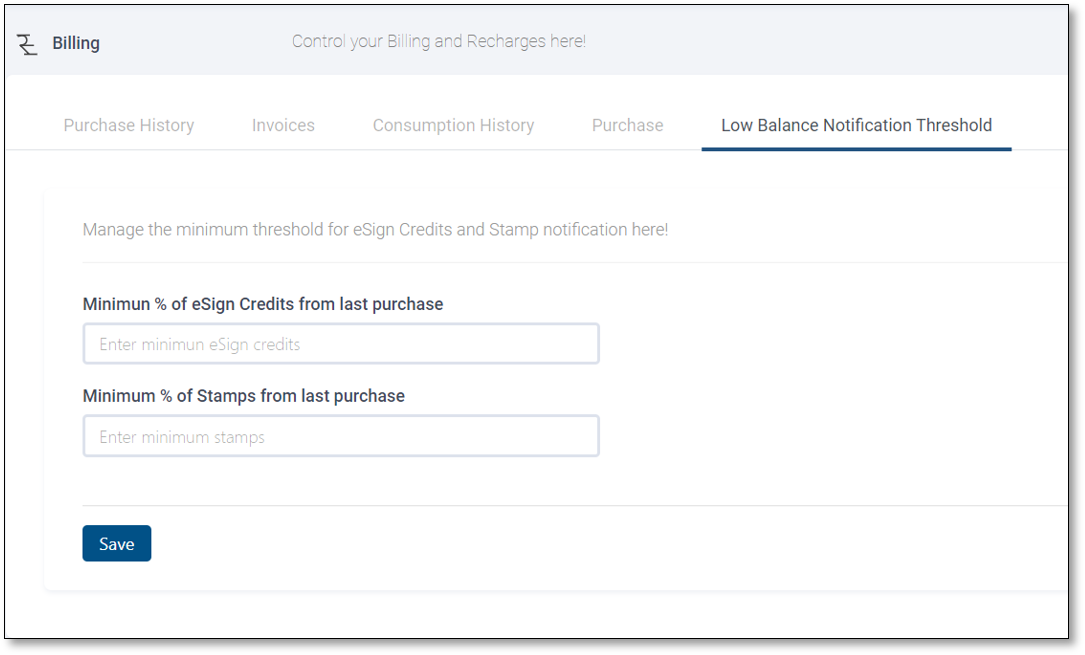 A low balance threshold can be set for the eSign and Stamp paper balance in your account by entering a percentage consumption with regard to your last purchase which when reached will trigger a low balance notification to the configured user.
e.g. If your last purchase is for Rs. 100 and you have set a percentage at 80%, once you consume Rs.80 worth of credits a low balance notification will be triggered.
Related Articles

Notification

This page (screenshot below) allows a User to edit the notifications they receive for an eSign transaction. User Level notificationsAny user in an organization can set custom notifications for the Document-level notification types shown below. The ...

CC

Introduction The CC feature allows you to add contacts to the document journey who may or may not be signers/reviewers in the document but who need to receive updates (as configured by the sender) in order to remain privy to the progress of the ...

Reviewer Role

Description The reviewer role is a non-signing invitee type where the invitee either approves or rejects a document sent to them. The purpose of this invitee type is to allow the sender to ensure that there is a review of the document before the same ...

NeSL eSign

How to activate Account settings >> Department >> eSignature To activate NeSL eSign, "NeSL eSign" needs to be enabled. NeSL eSign can be made the Default signature type using the Default toggle. NeSL eSign settings can be configured by clicking on ...

Cloud DSC

Introduction Cloud DSC is a way to apply IT Act compliant digital signatures, without having to possess a physical token that is necessary in traditional DSC based signing. Users can simply complete a 100% online, one-time verification process, ...