Configuring an Invitation
Add Invitee's
Once on the Invite page, you have the option to add any number of invitees to Sign the document.
By default, your details will be added for self - eSign automatically as shown below.


You can remove your name by turning off the 'I want to sign this document' toggle on the top left.


Other parties whose eSigns are needed on the document can be added by clicking the blue "

Add Invitee

" button.

This opens a blank box with variable name and contact fields where you can enter the invitee's details.
The invite can be configured to be sent to:

Invitee's Email ID




Invitee's Phone Number



Both

Selecting Signature Type
The signature set as 'Default' in the

eSignature section

in the Department Tab.
The invitee can be restricted to either one eSignature type or can be allowed to sign the document using one of the multiple eSign types.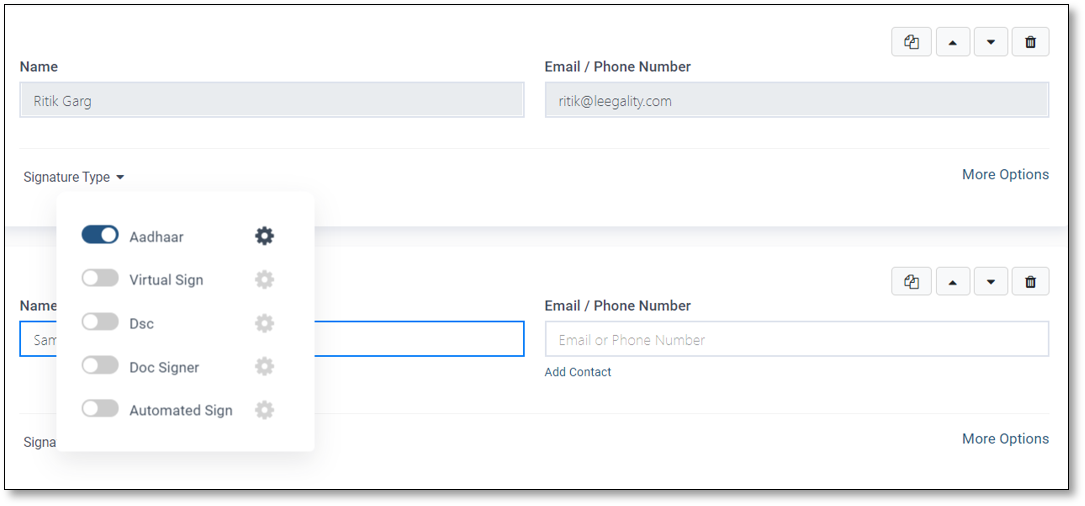 Each 'Signature Type' has its own options that can be accessed by clicking the '

gear

' icon.



This tab provides you variou
s options to further modify an individual invite.

Set Signing Order
A signing order is by default activated which forces a set singular pattern in which the signatures will be activated.
The order can be edited by moving the invitee up and down with the arrow keys.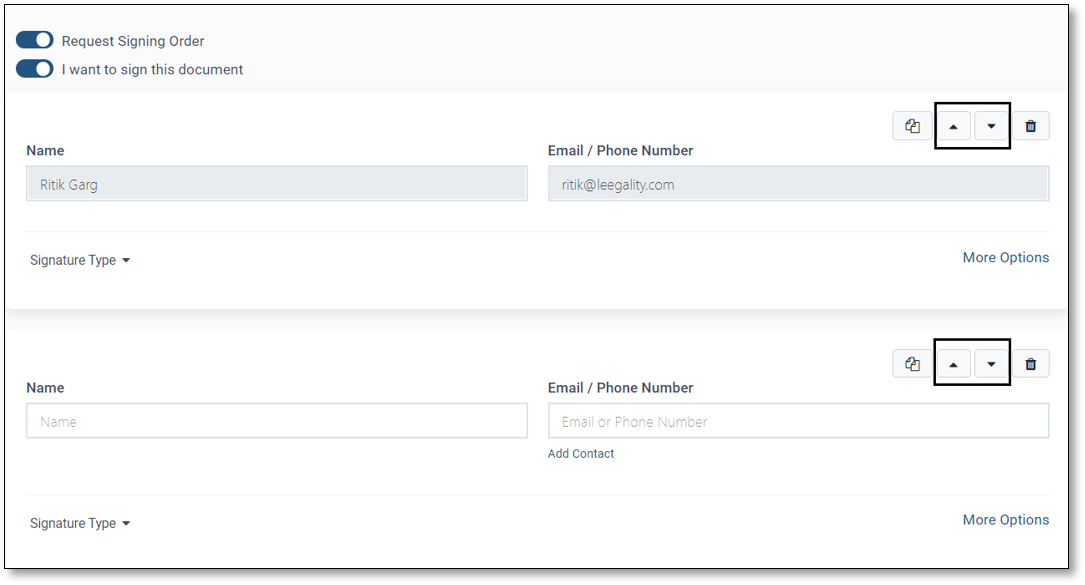 The Signing order toggle needs to be turned off if not required.
Duplicating Invite
The copy invite button

allows you to duplicate all the invite configurations into a new Invite.

The only thing that needs to be entered are the new invitee details.



Video on how to configure an invite.
Related Articles

Completing an Invitation to eSign

Finalize Once you have configured the invitee settings, click on the blue "Next" button. This takes you to the final step of the invitation journey- "Finalize". In case a stamp paper was attached it will appear as the first page of the document. Set ...

Group Invitee

Group Invitee allows the sender to send signing invites to a group of authorized signatories. Using this feature, anyone or all signers in one group can sign the document, thus, reducing the dependency on a single signer. Activating the Group ...

DOCUMENTS TAB

Use the Documents Tab to set document related configurations for your Leegality account, to avoid manually configuring the settings for each document sent from/received in your account. From the Documents Tab, you can set the following ...

CC

Introduction The CC feature allows you to add contacts to the document journey who may or may not be signers/reviewers in the document but who need to receive updates (as configured by the sender) in order to remain privy to the progress of the ...

Invitee Rejection

This feature allows the signer to reject the document while viewing the document for signing. Activating Invitee Rejection functionality Step 1: Click on the "Account" option then go into the 'Department' tab and then click on the 'Invitee ...